I started at Ince today for my BTO WeBs count.
A flock of 54 Eurasian Curlew were in a field alongside the service road to the GrowHow fertilizer plant and a flock of 27 Common Snipe circled the area looking for somewhere to feed. The pools near to the pig farm held 13 Mallard, 60 Eurasian Teal, 15 Gadwall, 3 Northern Shoveler, 12 Eurasian Coot, 5 Common Moorhen and 5 Grey Heron, 5 Pink-footed Goose were seen flying south.
A Common Chiffchaff was seen near to Ince Berth as were several Fieldfare and Redwing.
Onward along the Manchester Ship Canal path and a flock of 54 Eurasian Coot were on the banks of Frodsham Score saltmarsh and slipped into the water when they saw me on the path. The stubble field alongside the Holpool Gutter held c80 Eurasian Curlew, a handful of Northern Lapwing, 3 Little Egret and a single Grey Heron, 3 Mute Swan dropped in to the field.
Looking over Frodsham Score as the tide was rising produced several Little Egret and 2 Great Egret were at the river edge alongside many Canada Goose and Common Shelduck.
A large flock of small waders were  seen in the distance over the river with a Marsh Harrier and Common Buzzard both were hunting on the marsh flushing the Northern Lapwing flocks. Several sheep were caught out by the rising water and at least they didn't make it to dry land I spotted Shaun Hickey and another pal making the great effort of the long WeBS counters trek back to Stanlow  out on the south Mersey marshes.
Along the lane of Lordship Marsh had c40 Eurasian Curlew in the stubble and 14 Whoopers Swan with 6 Mute's were in their usual field.
Observer: Paul Ralston (images 1-8 & 13).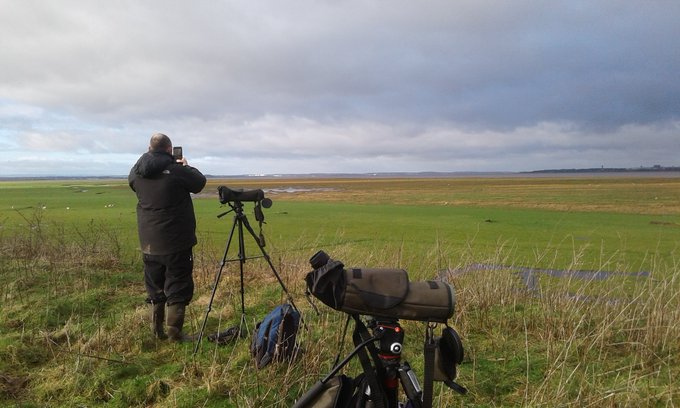 The Allan Williams WWII gun turret situated on the banks of Frodsham Score.
A selection of scenic images during todays WeBs count for the BTO on the south Mersey marshes with fellow counter Joe Tawnie (image 12).
Shaun Hickey (images 11 & 14-23).
I couldn't make the visit to the marsh today, but I did see a drake Goosander on Blakemere at Delamere Forest per WSM (images 9-10 & 24).