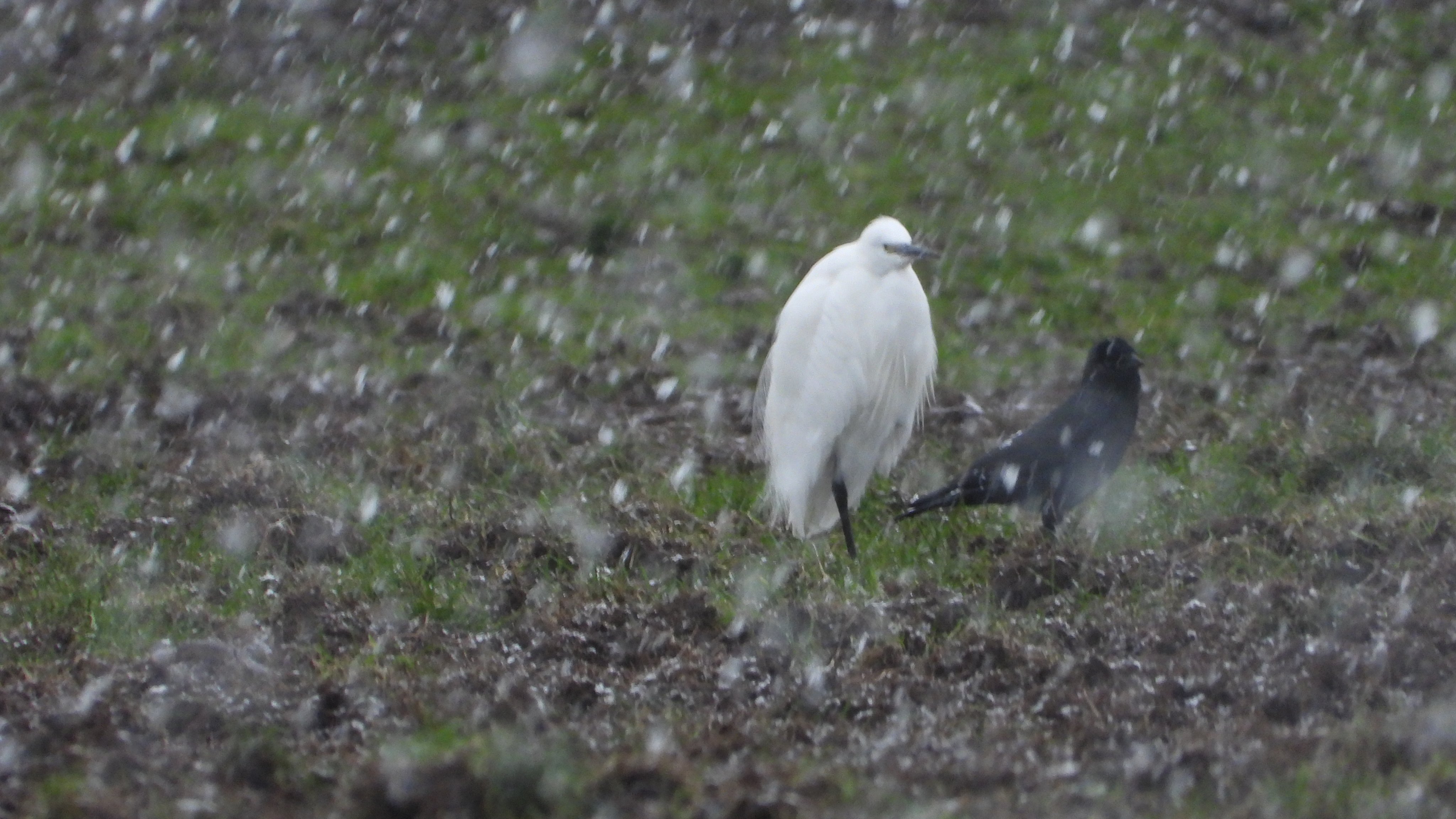 An early morning walk along Brook Furlong Lane where Redwing. Fieldfares and Common Blackbird were plentiful feeding on the hawthorn berries eside the lane. Also 5 Eurasian Greenfinch were also present, and then 2 pairs of European Stonechat being noted along Alder Lane. A flock of c1500 Northern Lapwingwere with c200 European Golden Plover and smaller numbers of Eurasian Curlew and Black-tailed Godwit were foraging in the fields close to Marsh Farm.
A large flock of Northern Pintail made their way out to the Mersey Estuary and there looking regal were 4 Great Egret out on the mudbanks with several Little Egret. A herd of 23 Mute Swan held 7 juveniles and more pintail were on the river with Eurasian Teal, Mallard and Common Shelduck. Four Common Snipe dropped down in to Redwall Reedbed and a Eurasian Sparrowhawk was hedge-hoping in an attempt to ambush the thrushes. Also seen were Common Kestrel and Common Buzzard were also active in the area.  T
At Ince the clay shoot was in full swing and no egrets were present, but the ducks on the pools at Goldfinch Meadows LNR were also on high alert and easily flushed as I walked past, The usual species being present and again 3 Mute Swan flew in to settle on one of the ponds. More winter thrushes were stripping the berries off the canal side hawthorn bushes and closeby a raft of c60 Eurasian Coot were flushed by a passing ship as were 2 Great Crested Grebe, 1 Little Grebe and several Tufted Duck, Gadwall and Eurasian Teal.
A Western Marsh Harrier flew from Frodsham Score and onto No.4 tank while a male Peregrine checked out the plovers on the stubble field before settling on the fertiliser plant.
Back at Ince the clay shoot was over and 2 Little Egret joined the pigs but did'nt look happy in the snow.
Observer: Paul Ralston (image 1-4).
There were two Great Spotted Woodpecker chasing each other along Moorditch
Lane this morning. Amonst the finches, thrushes, buntings, wagtails,
skylarks and pipits feeding by the model flying field on Lordship Marsh
were a Tree Sparrow and a Brambling. A Peregrine launched an attack over
the mostly frozen No.6 Tank, flushing at least 10 Common Snipe.
Further out were 46 Common Pochard with the Tufted Duck on the Weaver Estuary along with 12 Common Goldeneye.
Observer: Alyn Chambers.
We took a walk along Lordship Lane where the 19 Whooper Swan looked the part as the snow began to fall in small flakes before drifting down in thick and fast. The maize fields were mostly frozen and the damper patches held a few Pied Wagtail, Eurasian Skylark and Linnet flocks.
The 'splashing pool' held several Eurasian Teal and Northern Shoveler with the only bird on the ice of the 'phlarope pool' being a lonely Black-tailed Godwit.
No.6 tank had its share of Northern Pintail, Northern Shoveler, Eurasian Wigeon and Eurasian Teal but not in any great numbers and all tucked into the think vegetation on the margins of the ice.
The snow began to fall thicker and the light was fading fast so we headed home.
Observers: JS & WSM (video).