A Western Osprey over the Weaver Bend late morning per Will Sixsmith (images 1-3 by David Eardley).
We took a drive out to Tatton Park where it was a Sand Martin spectacle with c800-1000 birds hawking over Tatton Mere. A few Common Goldeneye were lingering with many drakes head tossing. A very oblging Green Woodpecker tried its best to conceal itself on the truck of an Oak tree, and when it thought it was being seen, it started to yaffle to another across the woodlands.
On our way home it was deemed necessary to take a hike around No.6 tank where we met another birder called Greg who use to work with an old birding buddy of mine, namely Ted Abraham…whatever happened to him?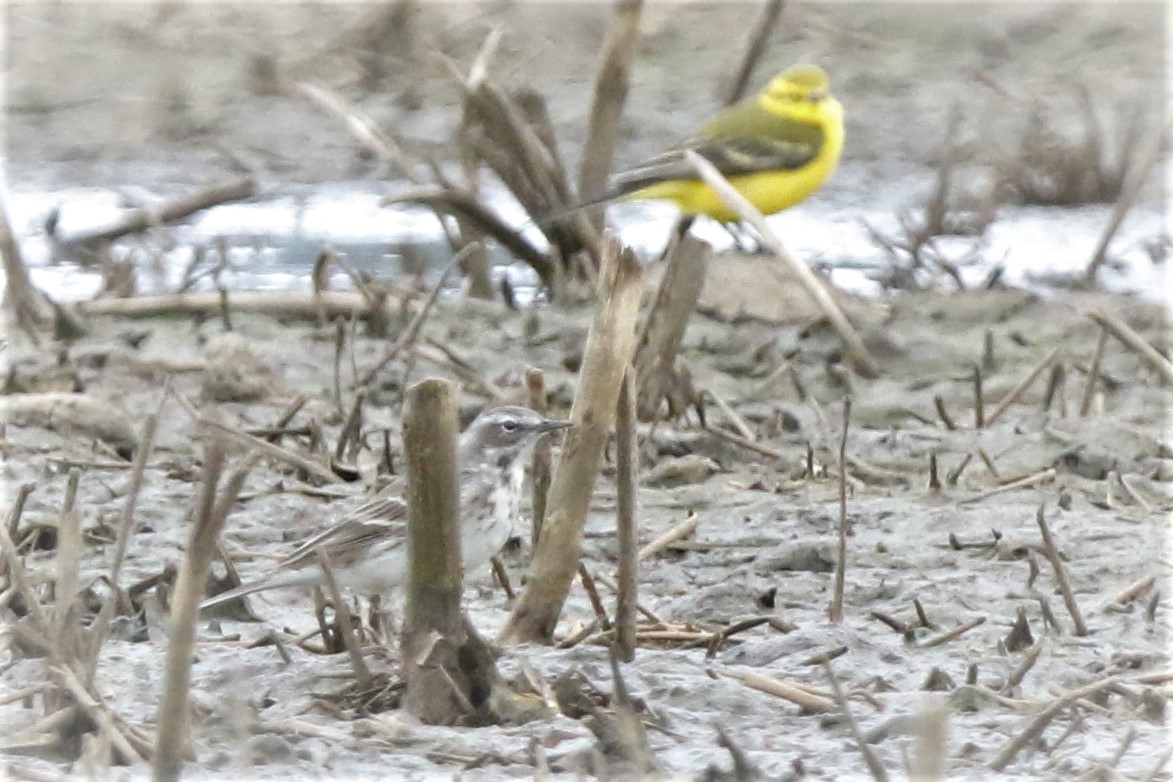 Image 4 by Steve Thonlison.
Anyway, we walked up to the damp stubble field and after a wait of 20 minutes the Water Pipit appeared and looked splendid in the evening sunshine. Several Pied Wagtail and a few Meadow Pipit were also present. Walking further around (clockwise) the 'phalarope pool' had 2 Ruff and a single Little Ringed Plover, several Black-tailed Godwit, numerous Eurasian Teal, a pair of Tufted Duck and some Mallard. The scrapes on No.3 tank had more Black-tailed Godwits, 3 Little Ringed Plover and 3 Ruff and after a tip off from Paul R there munching the grass were a pair of Barnacle Goose.
No.6 tank is always worth a punt and a look over the watery margins produced another Ruff and much reduced numbers of Black-tailed Godwit. The usual Northern Shoveler, Tufted Duck, 2 pairs of Northern Pintail and loads of Common Shelduck were present. A fter a short wait the 3 Black-necked Grebe were found and to busy preening to take any notice of me, some excellent views were obtained in the glorious evening sunlight.
A Peregrine was sat on top of the blue chimney way over at Weston Point and a pale morph Common Buzzard drew the attention of numerous Lesser Black-backed Gull. Also a small skein of Pink-footed Goose high over the marsh.
Walking back along Moorditch Lane and a nice Lesser Redpoll was feeding on a willowherb seed head inside the ditch by the road.
Observers: JS & WSM (image 5-6 & video).
Instead of looking for the grebes on No.6 tank we decided today to take up the tip from your website that there are Northern Wheatear on the pipes near Marsh Farm. We arrived, saw none and continued up to the farm seeing starlings en route. On our way back we found the attached Northern Wheatear so we returned happy!
Observer: David Eisner (image 7).
I had a quick visit to Ince this afternoon to look over the ponds and again no sign of the Garganey pair, but they may of been present and out of sight. Ducks present were Gadwall, Eurasian Teal and Mallard with 4 Mute Swan, one wearing a yellow darvic ring.
Onward to Frodsham Marsh and a walk around No.6 tank where there were good numbers of the usual wildfowl on the water with c200 Black-tailed Godwit and a Ruff.
The mitigation pools held more Black-tailed Godwit, 3 Little Ringed Plover and another Ruff. There 2 Barnacle Goose grazing with a flock of Canada Goose and several Greylag on the short grass. Numerous Barn Swallow were hawking overhead.
The 'phalarope pool' held another Ruff, 2 Common Snipe and a single Little Ringed Pover.
A look over the stubble field and the Water Pipit dropped in with a group of Pied Wagtail, Meadow Pipit and Common Reed Bunting, it gave a brief view before it was bullied by a Meadow Pipit and disappeared in the furrows.
Walking along Lordship Lane more Barn Swallow were hawking over the bank and a female Western Marsh Harrier flew over.
Observer: Paul Ralston (image 8).