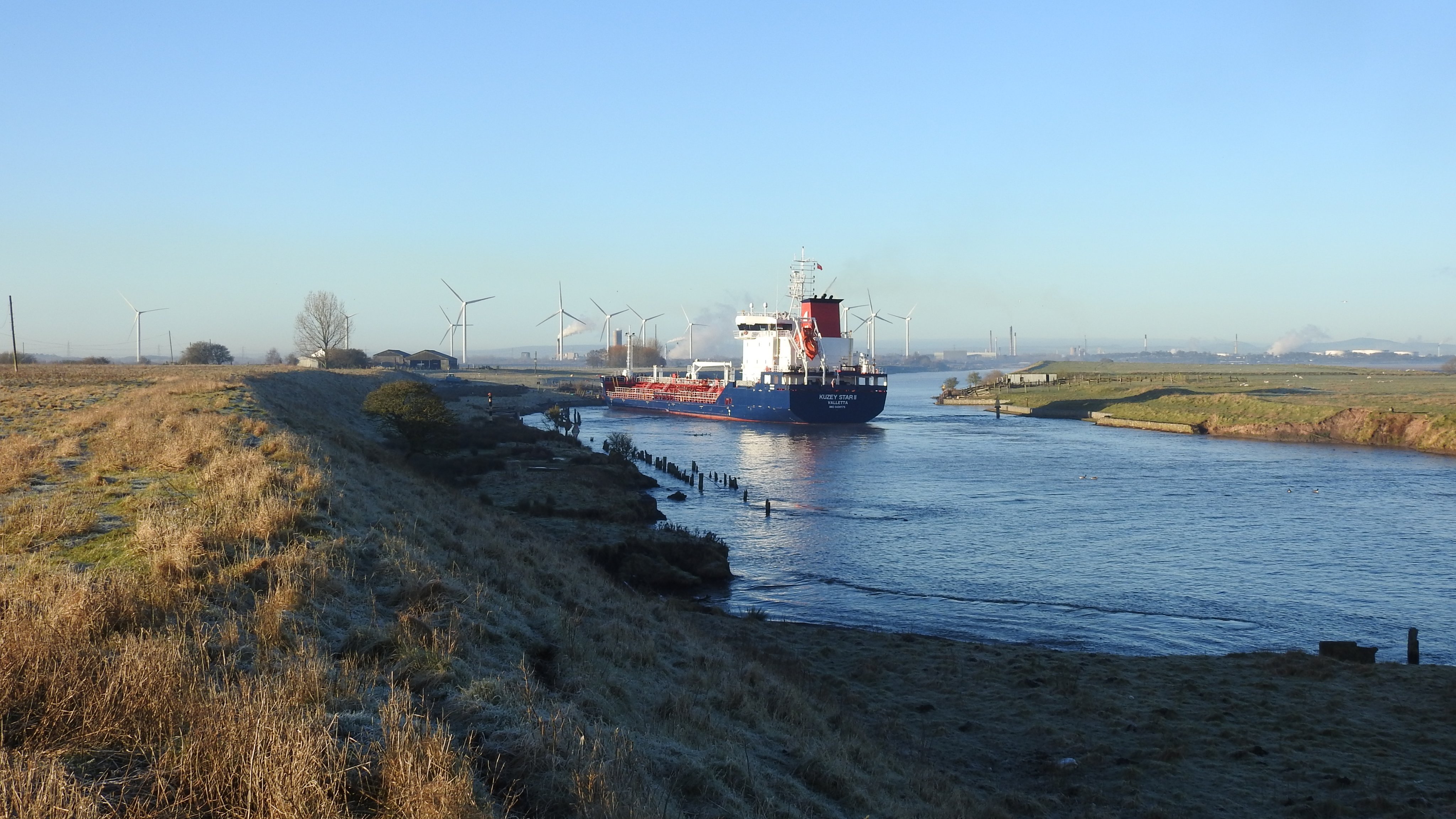 An early morning walk around the marsh starting at Brook Furlong Lane. A Cetti's Warbler burst into song as I made my way to the river with Song Thrush and Blackbird were also vocal. On the River Weaver two groups of Common Goldeneye c20 all joined alongside Mallard, Eurasian Teal and Common Shelduck in courtship displays.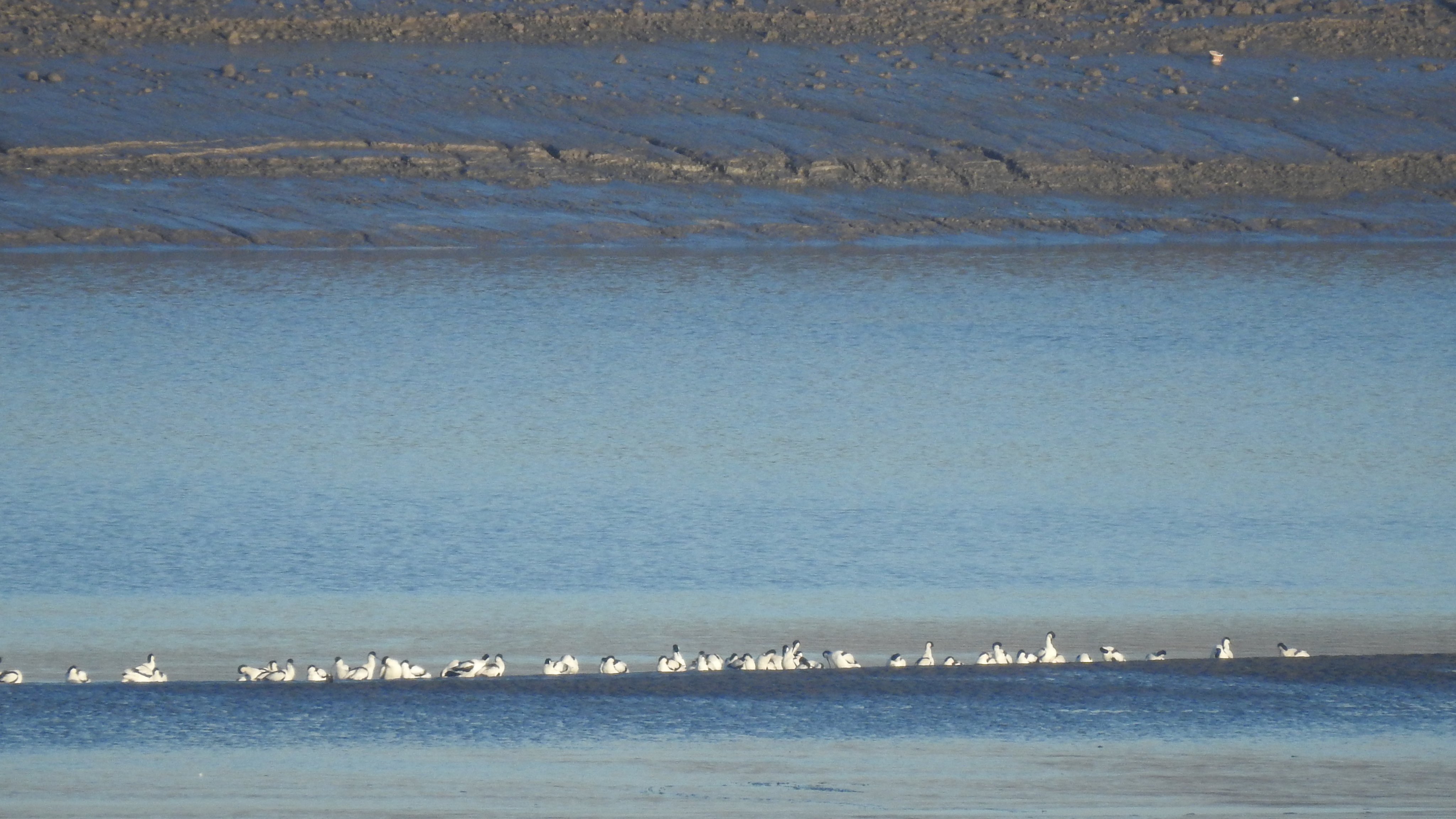 Two Pied Avocet flew down river and out to the Mersey Estuary where they joined a flock of c50 more feeding in the tidal channel.
A cargo ship the Kuzey Star II heading west along the Manchester Ship Canal misjudged its turning circle at the canal bend and temporarily grounded near to Marsh Farm, but managed to free itself from a very embarrassing position.
Several Eurasian Skylark were singing from on high, while Meadow Pipit watched me pass by as they sat on the fence posts. Ravens were commonplace all over the marsh cleaning up any casualties of lambing. On to No.6 and a harrier was seen briefly before it dropped in to the reeds (looking at the photo at home on my computer screen and it was an obvious ring tail). Several European Stonechat were noted during my walk with flocks of European Goldfinch and Linnet keeping a keen eye on a passing Sparrowhawk.
The Whooper Swan herd were grazing in their favoured area on Lordship Marsh.
Onward to Ince and the 3 Western Cattle Egret foraged amongst the pigs with just 2 Little Egret with them.
Out on Ince salt marsh and a mass of waders were moved of the mud banks by the rising tide and put a fine display by Stanlow Island.
A good day to be out on the marshes.
Observer: Paul Ralston (images 1-7 & 9-11).
A morning ramble along Brook Furlong Lane where the last throws of winter thrushes were eeking out afresh emergance of bugs and worms. With the sweltering(ish) warm temperatures one particular Cetti's Warbler emerged from its dense cover to show whilst singing for a few seconds, a wheezing Lesser Redpoll and a pair of Bullfinch added a splash of colour to the sunshine.
A look over the River Weaver produced 43 Tufted Duck, 9 Common Goldeneye and 11 Great Crested Grebe, but the wintering imm drake Greater Scaup looks to have moved on. A pair of Pied Avocet flew up river and the sounds more could be heard at their traditional breeding site. A pair of Common Ringed Plover, 43 Common Redshank and the reappearing and wintering Common Sandpiper were about. A flock of 211 Eurasian Curlew and a further 12 Eurasian Oystercatcher.
A walk back along the lane and a look over No.6 tank saw 32 Black-tailed Godwit, 75 Common Snipe, Northern Lapwing, 43 Tufted Duck, 18 Common Pochard, a pair of Northern Pintail, 79 Northern Shoveler, 11 Gadwall and c200 Common Shelduck. A ringtail Hen Harrier dropped in briefly before heading south again.
A Little Egret flew over Frodsham Bridge and flew inland.
A few Buff-tailed Bumblebee and Small Tortoiseshell were benefiting from the warm rays of the sun.
Observer: WSM (images 8 & 12-18).
Observer: Davis Eisner (image 19).