I started my walk and WeBs count at Ince marsh fields with 6 Mallard, 63 Eurasian Teal, 1 Common Shelduck, 31 Eurasian Coot, 3 Common Moorhen,29 Eurasian Curlew, 1 Common Snipe, c100 Northern Lapwing alongside the Hulpool Gutter, which also had 6 Great Egret, including a bird with the colour ring in the fields near the pipeline. Four were associating together and 2 more in the ditch that crosses the stubble field.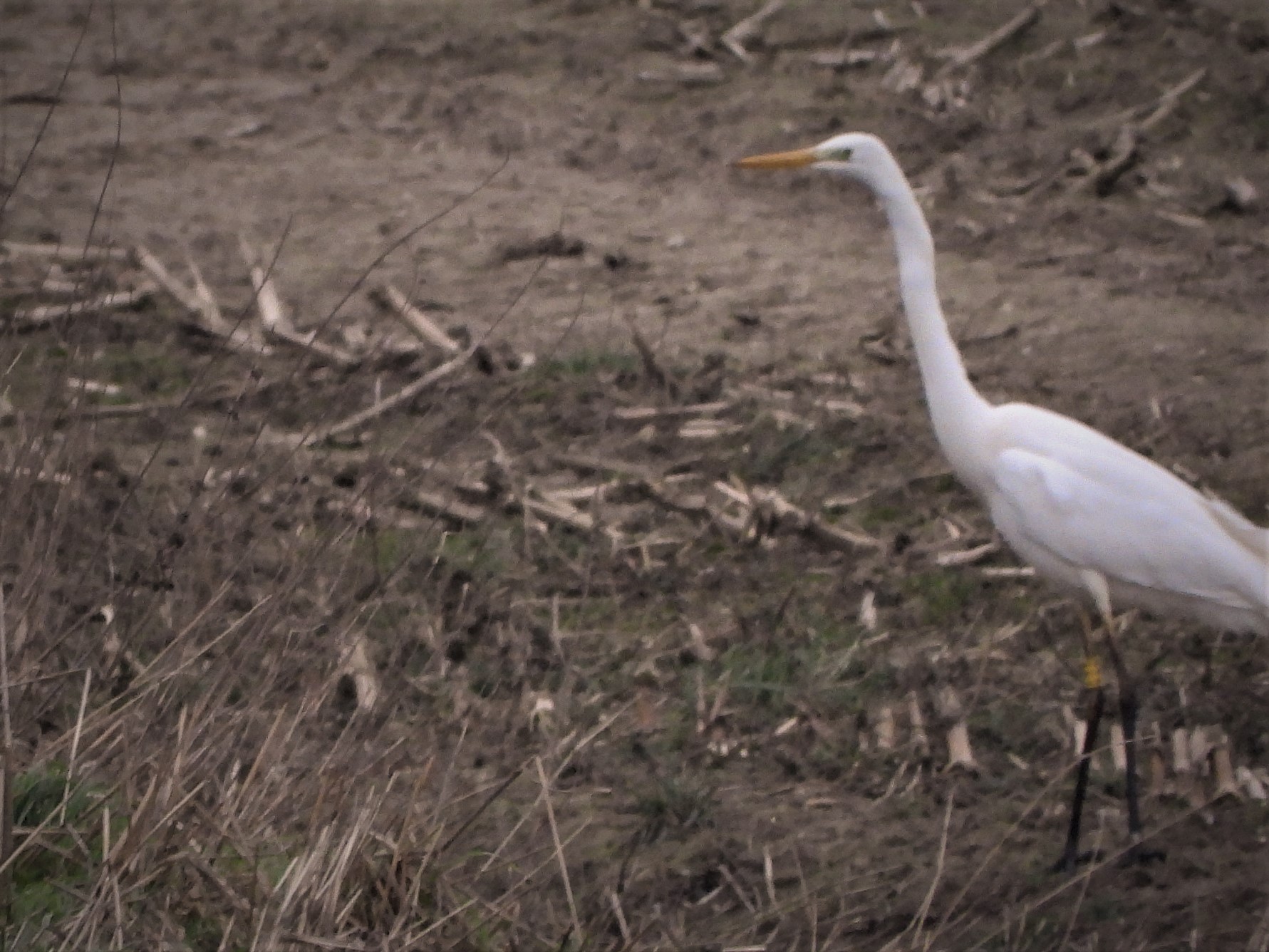 Also present were 3 Little Egret. A large mixed flock of finches feeding along the bank on No.4 tank attracted the attention of a Common Kestrel which hunted down a meal in the manner of a Merlin. There were 6 Mute Swan and 6 Greylag Goose plus the white domestic type grazing alongside the gutter.
Observer: Paul Ralston (images 1-2).
While Paul was out west we also were counting for the BTO WeBs by walking the lanes around No.6 tank, and with little daring to poke their heads above ground level in another day of strong unforgiving winds. The fields of Lordship Marsh were devoid of any ducks or shorebirds with the area still under the spell of frozen grounds. The only saving grace were the 24 Whooper Swan herd nibbling the grass by the ramp track between No.6 & No.4 tanks. A further herd of 16 Mute Swan were over by Lower Rake Lane with two adding themselves with the winter swan herd.
A look of the top banks of No.6 tank into the shearing wind produced the well marked female Western Marsh Harrier easing its way through the buffeting chill.
It was a time of celebration for myself and my infinitely better half (JS) with 30 years together, so we took the opportunity to stop for a short while from our walk to look over the marshes. There were 100's of Pink-footed Goose by the river with another Western Marsh Harrier gliding kite like over the salt marshes with flocks of Dunlin, Grey Plover and a single Bar-tailed Godwit edging in with the tide.
A few European Golden Plover were with several hundred Northern Lapwing on No.3 tank and the only ducks were a flock of Northern Shoveler, Mallard and Eurasian Teal on the 'splashing pool'. Further out by the Canal Pools and a flock of Eurasian Teal were displaced from the waters of the Manchester Ship Canal and flew around before resettling there.
No.6 tank was mostly frozen over with just 5 Mallard and 6 Common Shelduck (which must be my lowest ever WeBs count for this tank). The fields on No.5 tank afforded enough shelter for a modest flock of European Golden Plover to find food for their needs.
Observers: JS & WSM (images 3-5).