I called in at Eastham to watch the sunrise before making my way to the marsh this morning a skein of 100 Pink-footed Goose flew down river and a Great Black-backed Gull let out an alarm call as a Peregrine passed overhead. A Common Scoter was noted on the River Mersey for good measure.
Walking along Brook Furlong Lane and 4 Common Chiffchaff were foraging in the hawthorns alongside a mixed flock of tits.
Onto the River Weaver and a Whooper Swan kept company with 7 Mute Swan. A flock of c150 Common Redshank, several Black-tailed Godwit and a single Common Sandpiper were on the river bank. Gadwall, Mallard, Eurasian Teal, Tufted Duck and Common Shelduck were all present in small numbers.
Looking over the Mersey Estuary and a flock of 50 Pied Avocet were gathered on a sand bank alongside Eurasian Curlew and more Black-tailed Godwit while the Peregrine watched over the marsh from the blue topped tower at Weston Point. Another large skein of Pink-footed Goose were over the river.
Along the path besides the Manchester Ship Canal and European Stonechat were seen and several Meadow Pipit were present.
I stopped off at Ince on my way home and the pools were quiet with a few Gadwall, Eurasian Teal and Mallard seen, along with Little Grebe which was observed trying to drive its chick away from the pool, and repeatedly chasing it as soon as it surfaced. There were 2 Little Egret resting on the bank of the larger pool.
On the ship canal were c2000 Canada Goose on the water while Frodsham Score salt marsh had numerous Little and 2 Great Egret foraging in the tidal channels. A further c250 Pink-footed Goose were settled on the marsh with more skeins dropping in to join them, also noted were 3 Barnacle Goose amongst the flock.
Observer: Paul Ralston (all images).
An after work visit to No.6 tank where a flock of c1000 Black-tailed included just a single Bar-tailed Godwit. There were 6 Ruff, 2 Red Knot, 9 Common Redshank and several Northern Lapwing.
Ducks included the same species as yesterday with an increase of 52 Eurasian Wigeon.
Observer: WSM .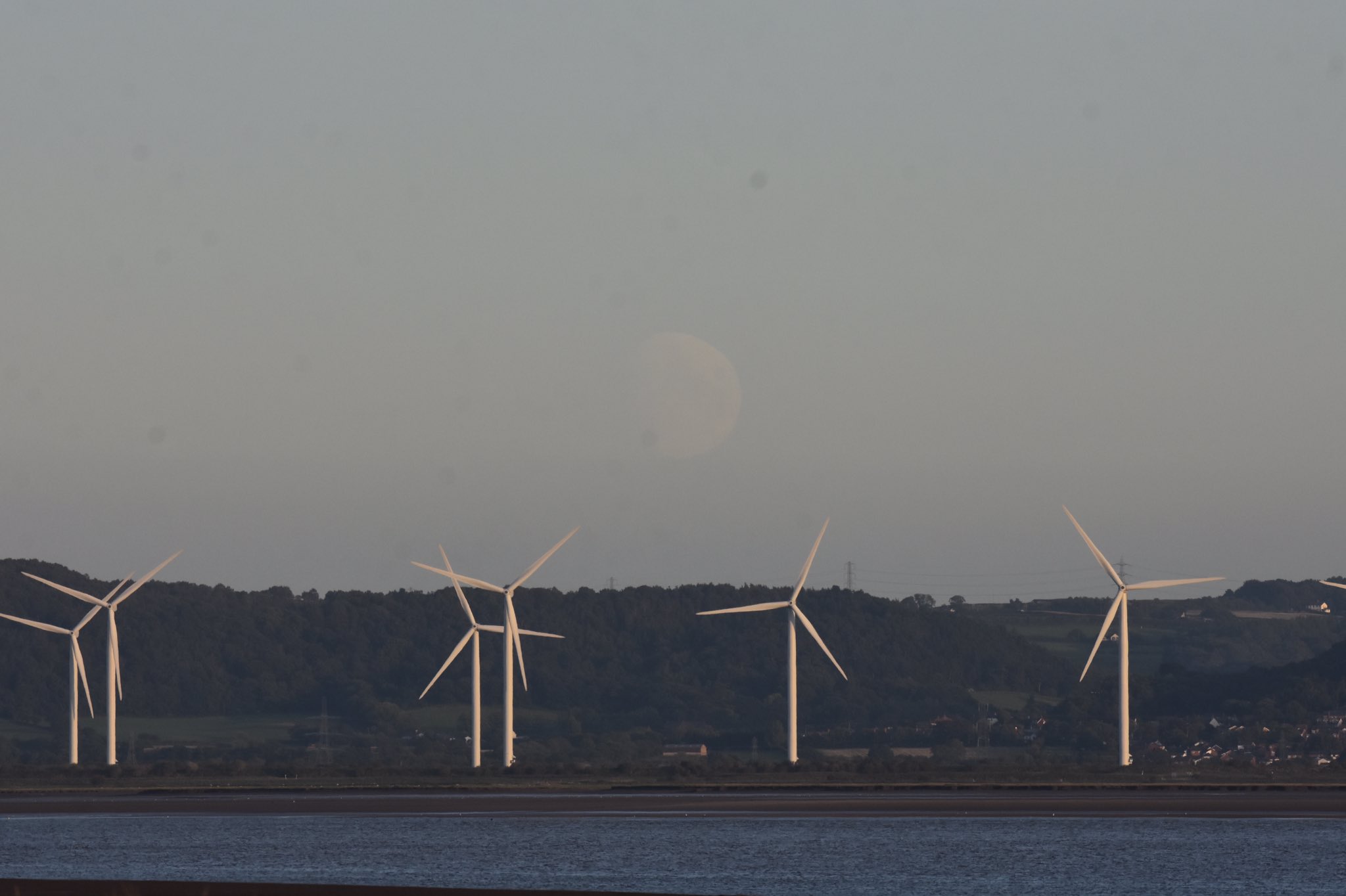 Moonrise over Frodsham Marsh by @birderjack