An after work visit to No.6 tank produced the summer plumaged Red-necked Phalarope which was mostly feeding, flying, swimming or preening. Some good views were obtained with a Common Ringed Plover sharing a muddy spit for a short while before the plover lost its patience and charged the phalarope pulling out a white flank feather. Not surprisenly the phalarope made a quick getaway swiftly followed by the plover.
A large flock of Black-tailed Godwit continue to feed on the tank with Common Redshank, Northern Lapwing and a fly over Green Sandpiper. A flock of 110 Tufted Duck had 5 Common Pochard were at the eastern ed of the tank.
Observers: Ian & Ben Igglesden( video 2) and WSM (image 1 -5 & video 1).
A walk around the River Weaver this evening starting at Brook Furlong Lane where Cetti's Warbler, Common Chiffchaff, Willow Warbler, Blackcap and Common Whitethroat are still vocal with Blackbird, Song Thrush and plenty of European Goldfinch joining in.
The European Stonechat pair on Alder Lane have moved back to their original nest site and were showing well. Hundreds of Eurasian Starling were feeding near to Marsh Farm and a flock of Linnet were noted. Barn Swallow and Common Swift were numerous hawking low over the fields.
Looking over the Mersey Estuary and a large flock of mostly Black-headed Gull were roosting with Eurasian Curlew and Black-tailed Godwit amongst them, but surprisingly no Pied Avocet flock were seen on the mud flats or the Weaver Estuary.
There were 5 Common Sandpiper dotted along the river bank with a single Little Ringed Plover and a Common Ringed Plover.
Obsever: Paul Ralston (images 6-12).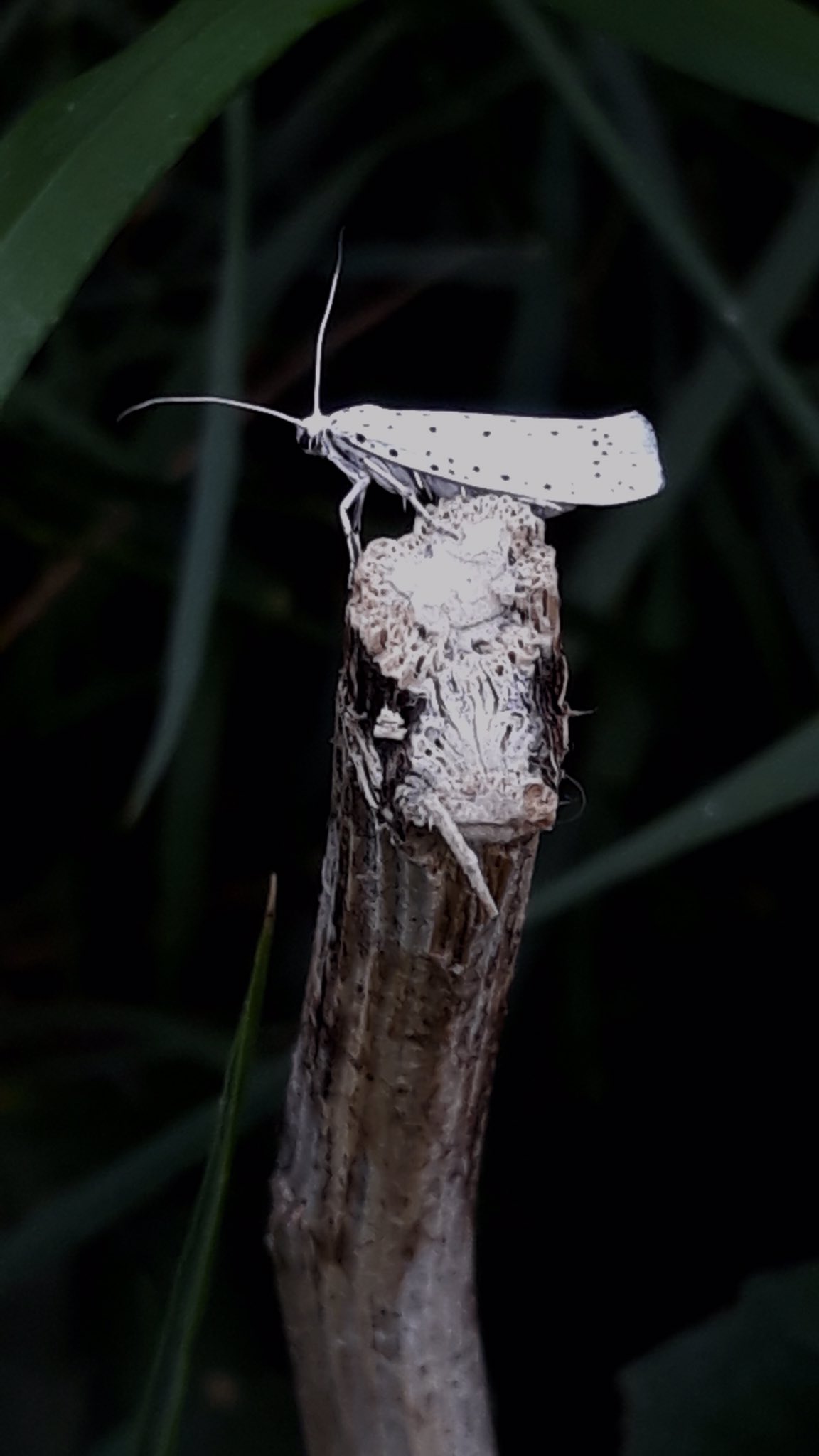 Spindle Ermine Moth where hundreds were along the bank of No.6 tank. Image by Keith Gallie.