I started at Ince today for our monthly BTO WeBS count on the adjacent land that borders the Mersey Estuary. A flock of c40 Eurasian Curlew were near to the pig farm, and the pools nearby held 6 Mallard, 89 Eurasian Teal, 14 Gadwall, 7 Eurasian Coot, 1 Moorhen, 2 Little Grebe, 1 Little Egret.
The flocks of nomadic winter thrushes like Redwing and Fieldfare were stripping what's left of the berries on the hawthorns and a couple of Common Kestrel were hunting over the rough grass near to Ince berth.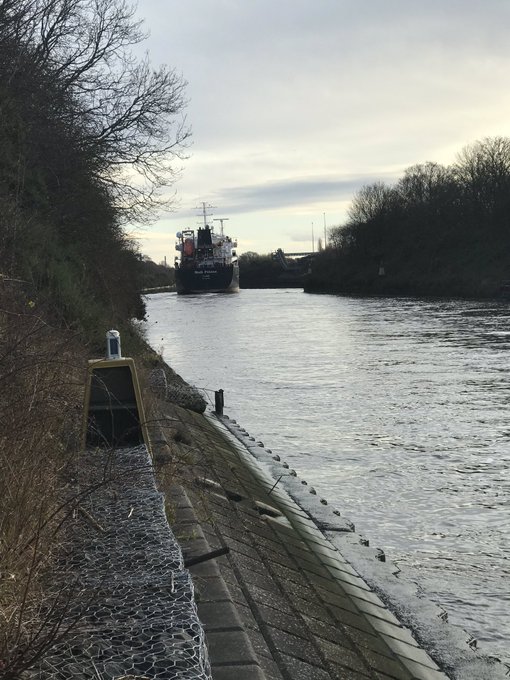 A flock of 24 Gadwall were resting on the Manchester Ship Canal with 53 Eurasian Coot and the cargo container 'Stolt Pelican' heading west to Salford.
A look over Frodsham Score saltmarsh produced a single Great and 13 Little Egret. Most of the geese were keeping to the edge of the river along with Eurasian Wigeon and Eurasian Teal.
A flock of waders were moving backwards and forwards along the river edge with Red Knot, Grey Plover, Dunlin and Common Redshank being noted  A flock of c80 Eurasian Curlew and c100 Northern Lapwing were in the stubble field by the Holpool Gutter with hundreds more of Northern Lapwing which rose into the air and high over the saltmarshes.
Looking over Lordship Marsh were 10 Common Redshank, c100 Eurasian Curlew and several Common Snipe. The flooded fields kept a pair of Mute Swan and a single Little Egret could be seen in the distance. There was still the family groups of 15 Whooper Swan again in the flood field by the M56 motorway, but the Cattle Egrets had taken time out with the cattle being moved to a less flooded field.
I didn't see the Common Kingfisher but did noticed it had left a couple of fish bone pellets in the drainage ditch by the junction path. A pair of Mistle Thrush were feeding in a ploughed field alongside the GrowHow fertiliser plant and a Peregrine was high up over the same factory.
No.6 tank had again amuch reduced number of ducks with 48 Northern Shoveler, 14 Northern Pintail, 125 Eurasian Teal, 7 Eurasian Coot, 11 Moorhen, 12 Little Grebe, a female Common Goldeneye and 21 Mallard. Three Marsh Harrier were over the reed beds adding to an under par day out in the field.
A Goshawk was over the Mersey marshes at Mount Manisty per Shaun Hickey.
Observers: Paul Ralston (images) & WSM.
A couple of interesting birds of note include a Barred Warbler from last autumn (2018), and more recently a Great Grey Shrike caught at an undisclosed site on the marsh two weeks ago.